Join us for 'A Review of the Hospitality Sector for 2022 and Predictions for 2023,' taking place virtually on 04 May from 12 – 1 pm. This event is free for all Tourism Society and Institute of Hospitality Members. Tickets are £13 for non-members.
The panel will be moderated by Peter Hancock FTS, and feature:
Robert Richardson, Chief Executive Officer, Institute of Hospitality
Graham Donoghue CTS, Chief Executive Officer, Sykes Holiday Cottages
Tom Ross, Managing Director, The PIG Hotels
MEET THE MODERATOR – Peter Hancock
Peter Hancock is a professional conference & events host and after-dinner speaker (www.hancockspeaks.co.uk)
He is also an ambassador for James Hallam (insurance) and was Chief Executive at Pride of Britain Hotels from 2000-2021, Group Publishing Director of Johansens from 1988-2000 and a hotel general manager in his early career, starting as a waiter in the late 1970s.
Peter is an Honorary Master Innholder, a fellow of HOSPA, a fellow of the Institute of Hospitality, an ambassador for the Gold Service Scholarship, an ambassador for the Independent Hotel Show, an honorary St Julian Scholar, a member of the Professional Speaking Association and a fellow of the Guild of International Professional Toastmasters.
Winner of the "Outstanding Contribution to the Industry" award from the Institute of Hospitality (2019)
Winner of the "Outstanding Contribution" award presented at the Independent Hotel Show (2021)
Winner of the Hotel Catey for 'Outstanding Contribution' (2021)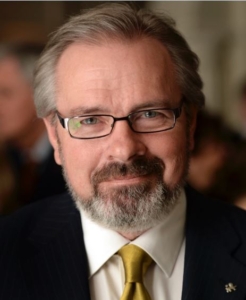 MEET THE PANEL
Robert Richardson
Robert Richardson FIH is an award-winning Hotelier and Hospitality Professional who assumed the role of CEO for the Institute of Hospitality in 2021.
Roberts' career has seen him working at senior levels within major hotel chains including Hilton Worldwide, IHG and Ramada Jarvis. Most recently Robert was General Manager of an Independent, luxury boutique hotel & golf resort in Kent.
Robert is a recipient of several Industry recognised awards including the Southern Enterprise Awards' Boutique Hospitality Manager of the Year 2019 & 2020, the Shaw Trust Employer of the Year Award (for his work developing hospitality employment strategies for people with disability) and the Institute of Hospitality Judges' Special Achievement Award. In 2020 Boutique Hotelier Magazine recognised Robert as a "Young Trailblazer" on their annual Hoteliers "Power List"; a list of the 50 most Inspirational and Influential Boutique Hoteliers operating in the world today.
In November 2021 Robert led the Institute to being recognised at the Chartered Governance UK&I annual awards, winning their "Diversity & Inclusion Strategy of the Year" award.
Regularly featuring in the national press, radio and industry podcasts, Robert is a Fellow of the Institute of Hospitality and also sits on the Kent Police Business Crime Advisory Group, representing hotels.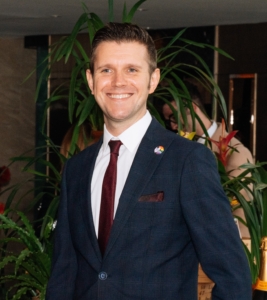 Graham Donoghue
Graham Donoghue is CEO of the UK's leading and fastest growing independent holiday lettings business, Sykes Holiday Cottages. Graham has worked in digital transformation for over 20 years, covering many disciplines from product innovation, technology, general management, digital marketing, and operations. He has helped create and grow some of the most successful digital led businesses across financial services and travel, both in the UK and across Europe and has been a board member of TUI Travel PLC, MoneySupermarket and a non-executive of Brightside Insurance. Graham joined Sykes in 2016, following an investment from private equity firm, Livingbridge. Under Graham's leadership, Sykes has gone from strength to strength growing from a trusted family-run business to one of the largest holiday home rental platforms in Europe. Sykes has transformed into a tech-enabled service business driving innovation within the booming UK travel sector. The ambition is that by the end of 2023, Sykes will have over 35,000 holiday homes compared to the 5000 in the portfolio when Graham joined in 2016. Employee numbers have grown from 185 to over 1,000 with over 100 engineers. During his time as CEO, Graham has increased Sykes' property portfolio by over 150%, successfully acquired 23 regional UK brands into the Sykes family, as well as expanding the business internationally by investing in New Zealand's leading holiday rental firm Bachcare. In 2019, Graham secured fresh investment for Sykes from Vitruvian Partners to help fund plans for further UK and international expansion.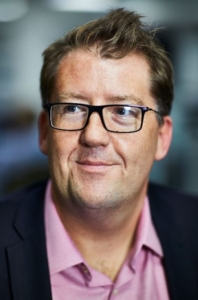 Tom Ross
Tom Ross was born into the hotel industry, his parents having owned the award winning Homewood Park hotel and Queensberry hotel, both in Bath. Following a short stint at The Chicago Ribshack as a teen, his first role in the industry was working for Robin Hutson at the Winchester Hotel du Vin when the group was in its infancy. From there he moved to the USA to work at the 5 star, 5 diamond Fearrington House, a Relais Chateaux property in North Carolina before moving to the Napa Valley. He joined the world renowned French Laundry Restaurant, winner of Best Restaurant in the World 2002 and 2003 where he progressed to maitre d' . After 3 years in Napa he returned to the UK
Tom returned to the UK in 2004 and to the Hotel du Vin in Brighton before becoming GM of Tunbridge Wells and then opening Cheltenham in 2007. In 2010 he became Operations Director for Jeremy Mogford in Oxford, overseeing The Old Bank Hotel and the Old Parsonage Hotel. 2013 saw Tom return to his home town of Bath and at the same time return to work for Robin Hutson as Hotel Director of THE PIG-near Bath. Tom became Group Operations Director of The PIG's in 2019 and in 2022 Tom was appointed Managing Director of The Pig Hotels.
He is an Ambassador and Board Member for Hospitality Action and has been involved in a number of fund raising initiatives.
He continues to live in Bath with his wife Melissa and their 3 children. Food, wine or fly fishing related activities are what you might find him doing in his spare time.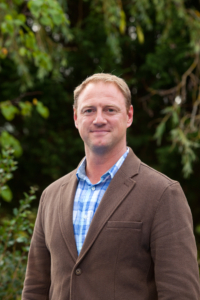 Date: 04/05/2022 12:00 pm