Can the UK Hotels Sector Recover from COVID-19?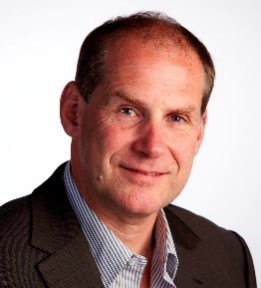 Martin Evans FTS observes… "Articles have been written and webinars zoomed over the last 12 months about the changes which have hit the UK hotel sector since Coronavirus struck and, looking at hotel technology alone, commentators agree that the sector has already advanced six years in just the six months between April and September last year!
From Covid distancing regimes to mobile order-and-pay, and from online hotel check-in to market segment diversification such as the recent opening of the first (Best Western) "Hotelcare Hospital", this short report is not intended to repeat the many articles on the subject which can be found via any good online library or website.
Instead, I will concentrate on three key points which will help determine if the UK hotels sector will recover from Covid, and at what speed, and, just as hotel operators do, I'll deal with them by considering the key revenue metrics of the sector, comprising:
room occupancy
average room rate (ARR)
and total revenue per available room (TREVPAR).
First, looking at the challenge of getting back to, and then maintaining, healthy room occupancy levels, there
are both global and national travel factors in play.
In any normal year, the number of hotel room nights from inbound tourism will usually exceed the number
domestic customers tourism (source: VisitBritain). So, it's not too much of a mind-stretch to say that if the UK
hotels sector is to hit 2019 monthly occupancy levels in the second half of 2021, assuming international travel
has not resumed, then staycation tourism must double.
This isn't impossible, but highly improbable.
More than that, the industry anticipates that whereas coastal and rural hotels will enjoy 80% plus occupancy
levels between June and October this year, London and other urban city centre hotels might well be languishing with only 25% to 50% occupancy.
Secondly, when considering room rates, the expected staycation boom is forecast to be a seller's market,
pushing up prices considerably at popular hotels and locations.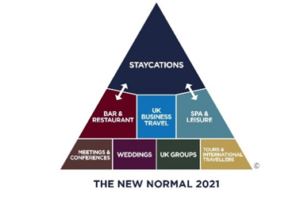 Also, the Bank of England's Chief Economist recently announced that British families have amassed over £250 billion in savings during lockdown and TUI has recently announced that its 2021 overseas holiday programme is selling at prices 20% higher than in 2019.
The same will also be true for the thousands of UK hotels and other accommodation operators in popular coastal and rural locations with unique or luxury destination hotels and resorts like Gleneagles and Carbis Bay (selected to host the G7 Summit in June) leading the way.
Finally, turning to "Total Hotel Revenue", many operators will now be trying to make up lost ground, but with
weddings, conferences, business travel and other segments expected to stay in the doldrums for much of 2021, the holy grail for hospitality business owners and managers will be the opportunity to convert ancillary sales.
That's why we're seeing operators bring on-stream a range of innovative and often self-catering
accommodation such as treehouses, beach lofts and yurts, as well as introducing pod-dining to create extra
restaurant covers, and selling ancillary products such as tours and excursions through their own websites.
Of course, revenue is only one half of the hotel recovery equation. But with so many cost-factors conspiring
against hotel managers (think furlough costs like NI and pension contributions, delayed loan and tax
repayments and hikes in business rates), it's certainly worth these operators spending a week or two updating hotel revenue/marketing plans!"
Martin Evans FTS is Managing Partner of The Tourism Business and organiser of the annual National Hotel
Marketing Conference. He can be reached on 07702 912938 and at martin@thetourismbusiness.com.
Further information on the National Hotel Marketing Conference will be released later in the year, at
www.hotelmarketing.org.uk.
This on-line event hosted by the Tourism Consultants Network attracted a wide spread of TCN members and others with a professional interest and involvement in consultancy.  The event was...