The Tourism Society first organisation in the UK to be awarded WTTC's Safe Travels Stamp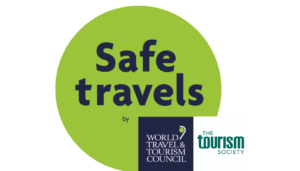 London, 3 February 2021 – The Tourism Society are delighted to announce that they have become the first in the UK to be issued the World Travel and Tourism Council's (WTTC) Safe Travels Stamp. This initiative by the WTTC allows stakeholders and consumers of the travel and tourism industry to be reassured that the destination authorities and companies holding these stamps adhere to the council's global health and hygiene protocols. With this seal of approval, the Tourism Society is able to accredit their members, which include regional tourist boards and attractions, through self-assessment their very own Safe Travels Stamp. The Tourism Society is uniting with the WTTC in the implementation of their global protocols with the purpose of kick-starting travel and tourism economies and speeding up the recovery of the tourism sector in the aftermath of the Coronavirus pandemic.
"The Tourism Society is an important and well-respected organisation and we are pleased to see it supporting a number of enhanced health and safety measures, in line with our global protocols, to ensure safe travel" commented Gloria Guevara CEO/ President of the WTTC. "We are delighted to recognise its efforts through the WTTC Safe Travels stamp. It joins many other key organisations and more than 200 major destinations around the world using the stamp, which aims to reassure travellers and restore confidence to travel".
The Tourism Society is looking forward to refreshing its links with the WTTC and working together in the future to secure a bright future for the industry. Chairman of the Tourism Society, Kevin Kaley, welcomes the award, "I am delighted that the Tourism Society is the first in the UK to be able to help the WTTC in their goals to kick-start the industry, the economy and unite on travel and tourism".
Later this month, on February 24, the association is hosting Gloria Guevara, at one of their "Big Thinkers in Tourism" series. The interview will look at of the future of tourism beyond Covid and towards 2030.
The protocols were designed in conjunction with World Health Organisation (WHO) and the Centers for Disease Control and Prevention (CDC) guidelines and were developed alongside leading industry associations and international organisations.  The stamp is a recognition of confidence in the organisation's abilities to ensure a safe experience for consumers and will therefore rebuild levels of trust and reassurance.
For further information, images, to set-up an interview or join the association's events, please contact:
Amy Layton / Alison Cryer,
The Tourism Society
Email: membership@tourismsociety.org,
Mobile: 0776 816 2683 / Telephone: 0208 877 4500
The Tourism Society is pleased to support the government's call for evidence on tourism accommodation registration, in response to the growth and impact of short-term holiday lettings.  We are encouraging...