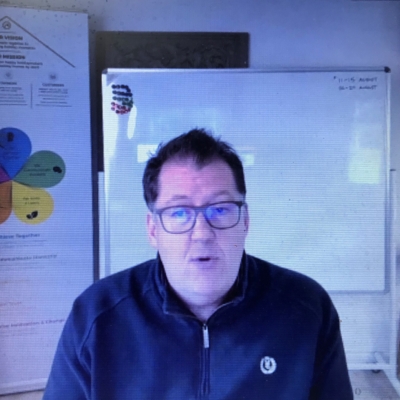 The Relentless Pursuit Of Happiness Graham Donoghue CEO Sykes Cottages
It takes a lot of people, tech and ingenuity to sell "happiness"
Graham Donoghue is the softly-spoken but determined and clear thinking CEO of Sykes Cottages and, as part of our Big Thinkers in Tourism series, he lifted the lid on the forensic attention to detail and data that has made Sykes Cottages so successful.
Graham markets 20k properties and every year welcomes 2m renters for both main holidays and what he calls short break "snacking". His 10 year plan is to have a billion pound company – he is already well on the way. Founded by Clive Sykes and his mother on their farmhouse table, the Chester-based company now employs around 850 people, 170 of whom are techies dedicated to perfecting every aspect of the customer experience to ensure that every owner and renter is completely satisfied with the brand experience.
Sykes uses the Net promoter Score (the number of people who would strongly recommend the product minus the number of people who strongly wouldn't) to monitor customer satisfaction or "happiness" as they prefer to call it and they manage to achieve and maintain exceptional levels of happiness for both bookers and owners. Having got this far they have no intention of letting anything slide so they continually evolve their processes and products to ensure that nothing impedes the customer on their journey to happiness.
Some examples:
• Sykes asks all owners to create bespoke content for their property and they use a system called "what three words?" to help people find a property more easily that the tradition sat nav or Google maps.
• Sykes offer bookers an app with exclusive local content from fool proof directions to how to pre-order local food and drink and make reservations.
• After their first night in a property the customer is asked" how did you sleep?" to see if there are any problems and, if there are, Sykes intervene to address them, so the rest of the holiday goes smoothly.
• Sykes employs a dedicated in-house team to review everything that detracts from a positive experience and to decide ways to put it right or eliminate it and a similar project team constantly reviewing how people are using search and what are the absolute key pieces of information they need to progress a booking – no more no less and totally seamless.
• Sykes offers a wide range of dog-friendly properties 38% of bookings involve a dog.
• Sykes is working to help owners introduce the measurable green quality standards that more and more bookers are looking for.
Maintain exacting standards maintains happiness.
Whilst Graham describes Sykes as "a tech company disguised as a holiday company" and admits that every element of the business is measured, calibrated and optimised to within an inch of its life, he acknowledges that some areas are more subjective, especially cleanliness and maintenance. This has led to Sykes offering a wide range of services to owners from building work to laundry even a spa and recommendations on where to invest next. Plus, owners who ultimately don't come up to scratch are shown the door – 3% per year – if they fail to work with the company's property improvement or property action teams.
And talking of owners, Graham knows that Sykes is less attractive than Airbnb which works well for the buy-to-let portfolio owners – although he did mention that creeping commissions are beginning to eradicate some of Airbnb's advantages. Graham he is happy that Sykes serves a highly diverse group of owners, many of whom see their cottage as their second home and want to work with a company that can provide a high level of service and appreciate how important an asset it is for the owner. His owners also appreciate working with a company who can advise them on anything from mortgages, investment locations and even what to build in their vacant field.
Happy days ahead too
Looking ahead in 2021 and beyond (some key properties already booked in 2023), Graham is revising his forecasts upwards and continuously on the hunt for acquisitions, especially in Scotland where demand massively outstrips supply. £10m has been set aside to invest in people and to bring in new capability. Voice search is a new imperative. On the day that the government announced the road map, he took a booking every 7 seconds and, as he was talking to us, over 95k people has already visited his website that morning. Although he is sanguine that people might suddenly rush for the sun if they can, he believes there is still enough demand to deliver his new targets.
Katrina Kerr (Michel)
Chair Chester BID
Trustee Storyhouse
Board Member The Tourism Society